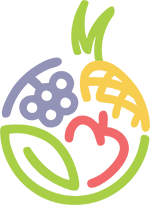 About fruit4u
The largest manufacturer of fruit and vegetable trays for hospitality in the country.
For reservations call: 04-6860955.
Fruit4u specializes in the production and marketing of fruits and vegetables, peeled and cut in different sizes and trays, ready to eat. Fruit 4u's flagship products are the plastered trays for hosting, the fruit and vegetable trays are ready to be served with a special design for each fruit / vegetable in the tray while maintaining freshness and quality.

The Company maintains the lowest prices in Israel in its products.
fruit4u owns the approval of a manufacturer of the Ministry of Health as well as kosher certificates of the National Rabbinate for Kashrut, Badatz, and Beit Yosef for fruit and vegetable products.
The company's products are marketed in most major food chains, writers, delis, high-tech companies, and institutional bodies.
The company emphasizes the strict selection of fruits and vegetables and buying directly from the farmer while maintaining a short time interval until cutting and serving it to the customer.
The company imports exotic fruits from abroad, enriching the colors and flavors of the fruit tray.